Shop
Jump to navigation
Jump to search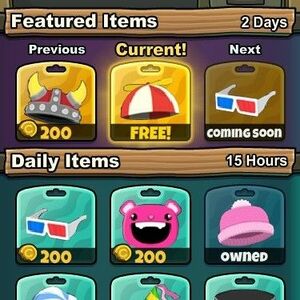 The shop is a feature that is accessible through the menu or via the /shop command. It will initially be located in the Port.
Currently available
Featured Items

100

Free item

Next Week

Collection

40

100

20

100

100

20
The shops sells items that can be purchased with coins. Each island (such as Pirate Island or the Star Ship) will have a unique shop with a unique shopkeeper. The shops will be updated every week.
Each shop will have a free item, a preview of next week's free item and the ability to purchase last week's free item if the player missed it. The shop will also include a number of items available worldwide and exclusive to the shop. The shopkeeper may have a number of deals and secret items.[2]