Easter 2020
Jump to navigation
Jump to search
Not the article you were looking for? Check the disambiguation page.
Easter 2020 was an event that took place April 9 – 19, 2020. An egg hunt took place, with six items available to collect across the Tavern and Cellar.
History
An egg hunt for 2020 was first confirmed on Twitter on March 10.[1] Later, items were teased in the form of Bunny Ears and egg hats.[2][3]
On April 9, 2020, the Tavern was decorated for Easter. The Cellar was released.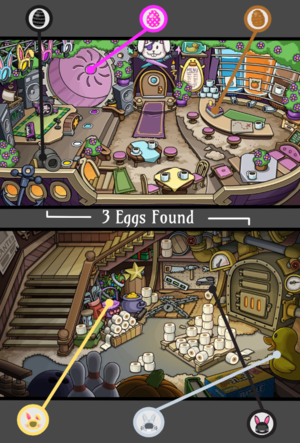 April 11 saw the start of the egg hunt: three Easter eggs, a black one, a chocolate one and a pink one were hidden in the Tavern. Additionally, the Black Bunny, Robot Bunny and Yellow Fuzzy Bunny Ears were hidden in the Cellar, but could only be obtained once all three eggs have been triggered.
Gallery
References