Castle
Jump to navigation
Jump to search
Unreleased
This page is about a room which has not yet been released.
Conjecture
The subject of this article does not have an official name, and as such, it has a conjectural title.
Castle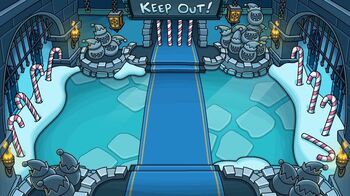 Information
The Castle is one or more rooms, not yet released, that will be accessible via the Forest. It is not known if or when the room(s) will be released.
History
Part of the Castle was first seen in a tweet by Sir Champion on November 22, 2019.[1] An updated color version was shared on December 12.[2]
On December 10, 2019, RocketSnail shared an image of a room inside the Castle on Twitter.[3]
On December 17, the Castle was again seen in an teaser of the Combat Card Game.[4]
The entrance to the Castle is at the Forest, first seen on January 9, 2020, when the room was opened. For Saint Patrick's Day, the gate was closed with a green sign saying "Happy Saint Patrick's Day. Now GO AWAY! - The King". The Castle can also be seen on the hilltop from the Village.
The Castle was seen in a teaser for the start screen of the Combat Card Game on March 18, 2020.[5]The Castle also exists as a playable location in the Combat Card Game.
Wallpapers of the Castle's artwork were shared on Twitter on March 16, 2020 by Captain Pirate.[6][7]
Gallery
Rough sketch of the throne[1]

The throne in color, animated[2]

The castle during the Combat Card Game[4]

Combat Card Game start screen[5]
References
Rooms
Event Rooms
Concept Rooms