Battle Bears
Jump to navigation
Jump to search
Battle Bears

Information
When
November 13 – November 25, 2019

Location
Crash Site, Tavern

ID
battle_bears


2019 events
Battle Bears is an event that took place November 13 – November 25, 2019 to celebrate the launch of RocketSnail's Battle Bears board game kickstarter.[1]
History
The event was first announced when a giant Battle Bears box was added to the Tavern, on November 7.[2]
On November 13, a new room was added, the Crash Site. The room allowed two items to be obtained: the Huggable Head, by collecting it from the box, and Wil's Outfit, by standing on the popsicles in the bottom right. The /battlebears item code was then added to release a new item each day.
On November 19, Huggable critters started spawning in the room. The following day, the Bee Bee was released (available to collect from the box). When wearing the Bee Bee, players could click on the spawning Huggables to shoot them and earn 10 coins per hit. This was the first time coins could be earned and was the first "microgame" to be added to Box Critters. The Huggable critters would wander around the room, occasionally saying "Hug", until shot. When shot, they would burst into rainbows and despawn.
Free items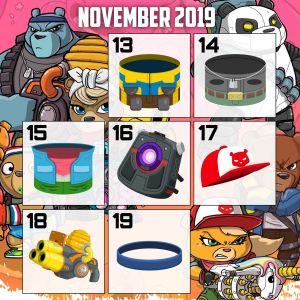 References