Easter Egg Hunt 2019
Jump to navigation
Jump to search
Not the article you were looking for? Check the disambiguation page.
Easter Egg Hunt 2019

Information
When
April 18, 2019 — April 28, 2019

Location
Tavern


Easter events




2019 events
The Easter Egg Hunt was an event which April 18 - April 28, 2019.[1]
History
RocketSnail first revealed that an Easter Egg Hunt would be taking place in DMs to the Box Critters Live YouTube.[2]
He later begun a conversation on the Discord Critters server and on Twitter, to gather feedback on how many items should be made available.[3][4]
Free Items
Hunt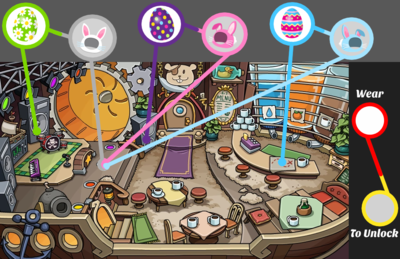 Players could hunt for items by walking to specific points of the Tavern, first collecting three Easter Eggs and then wearing each one to find the corresponding Bunny Ears.
The points that players had to walk to were as follows:[6]
Between the drum kit and speaker - Easter Egg A
On the speaker on the other side of the wheel - Easter Egg B
At the bar behind the Treasure Map - Easter Egg C
After this, walking to the green floor light wearing each of the Easter Eggs would find the corresponding Bunny Ears.
When the Hunt was first released, each egg (and sometimes bunny ear) would be added to players' inventories multiple times, and because the inventory screen does not have a scroll function, players were unable to choose any items other than the eggs. This was later fixed, and only one of each item was then added to the inventory. Duplicates have been removed from players who already had them.
References