Emotes
Jump to navigation
Jump to search
Emotes, emoticons or emojis are small images that can be used to show emotion or reaction in Box Critters.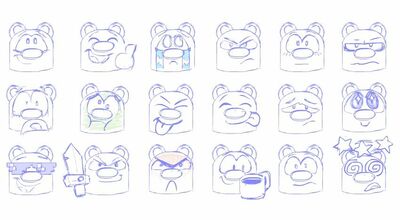 History
Concept artwork for emotes was first shared on April 24, 2020.[1] On May 26, emotes were added to the game, and on May 27, they were made available to use via the /emote command.
There are currently 25 emotes.
Presently, the Hamster

and the Snail

critters have emotes.
List
Emoticons
ID
adventure
angry
awe
blush
cheeky
coffee
cool
confused
crying
daze
fart
gg
happy
idea
laugh
sad
scared
sick
sleep
smile
serious
(originally straight)
thumbs_up
upset
worry
yum
References